DVD - Suzuki Toshio no Ghibli Asemamire 99 no Kotoba / 99 Words - Ghibli 2009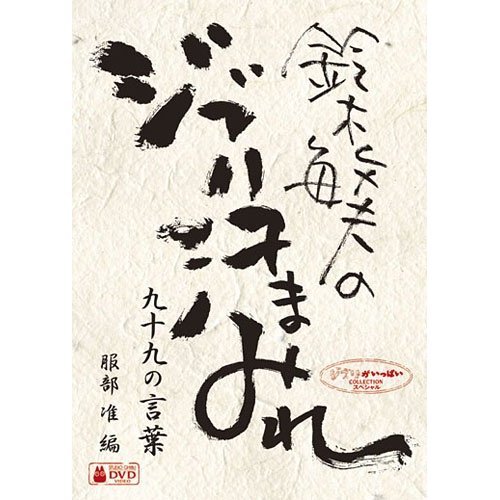 5 available
Details
Shipping: US-Mainland: $23.00 (more destinations)
Condition: Brand new
*The store has not been updated recently. You may want to contact the merchant to confirm the availability of the product.
☻ Please agree to the "TERMS" before purchase. ★ DHL NO delivery to P.O. BOX address.* For AUS and CANADA, before ordering, please google "DHL REMOTE AREAS" to check your Zip Code. If its listed, the shipping cost increases more than double.
☻ Please agree to the "TERMS" before purchase. ♛ Stay Safe!!

....... Price: US$45
....... Language & Subtitle: Japanese
....... Format: Color, Dolby, Widescreen
....... Region 2 - JAPAN, Europe, South Africa, Greenland and the Middle East (including Egypt)
....... Aspect Ratio: 1.78:1
....... Number of discs: 1
....... Publisher: Walt Disney Studios Home Entertainment
....... DVD Release Date: 2009/06/10
....... Run Time: 240 minutes
-- Description --
Copied from http://www.ghibliworld.com/news.html

This documentary follows the motto of "There are words that reach to you because it isn't visible". Hattori Jun, the editor of the radio program Ghibli Asemamire, re-edited the sound source of the program and made it into DVD. Since October 2007, Suzuki's Asemamire is aired by Tokyo FM as its key-station and netting on 38 local stations nation-wide. The show is recorded in Suzuki's personal office Renga-ya which wall is covered with bricks. Every week, Suzuki extracts the real feelings of his guests involving to his way of talk. Suzuki's guests included on the DVD are 49 different persons, varying from film directors, actors, singers, musicians, journalists to cultural anthropologists. More than 40 hours of recordings are included with a still background image of bricks making you imagine as if you are listening to the talk just at the place. The "99 words" is shown in Suzuki's chirography and voice and will help you to understand the meaning.