DVD - Ghibli ga Ippai Collection Special - Ghibli no Fuukei / Scenery of Ghibli - 2009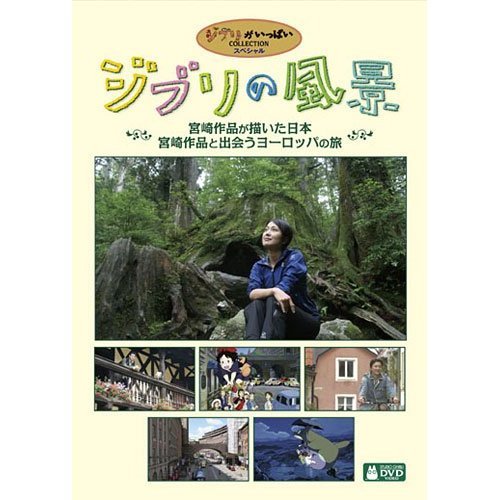 ☻ Please agree to the "TERMS" before purchase. ★ DHL NO delivery to P.O. BOX address.* For AUS and CANADA, before ordering, please google "DHL REMOTE AREAS" to check your Zip Code. If its listed, the shipping cost increases more than double.
☻ Please agree to the "TERMS" before purchase. ♛ Stay Safe!!

....... Price: US$70
....... Language & Subtitle: Japanese
....... Format: Color, Dolby, Widescreen
....... Region 2 - JAPAN, Europe, South Africa, Greenland and the Middle East (including Egypt)
....... Aspect Ratio: 1.78:1
....... Number of discs: 2
....... Publisher: Walt Disney Studios Home Entertainment
....... DVD Release Date: 2009/06/10
....... Run Time: 180 minutes
-- Description --
Copied from http://www.ghibliworld.com/news.html

"Ghibli ga Ippai Collection Special" documentary

The first one, Ghibli no Fuukei (Scenery of Ghibli), asks its hosts and viewers the question "Why don't you go travelling to seek the new attraction of Miyazaki anime?". With the use of Miyazaki's ekonte (storyboards) 3 travellers, actress Tsuruta Mayu, Natsukawa Yui and actor Sugimoto Tetsuta, visit the places and towns related to the images from Miyazaki's animated works. BS-Nippon re-edited the European part that aired on their TV channel back in 2006, as well as the Japanese part which aired in 2008 on BS-Nittere. In The JAPAN Miyazaki depicted (95 minutes), Tsuruta Mayu visits the places of "good old JAPAN" and discovers profound attractions like Totoro and Spirited Away and also shows the charm of Ponyo. In A Trip of the Europe Encountered in Miyazaki's Works (85 minutes) Natsukawa Yui visits Stockholm and Gotland to seek Koriko town from Kiki's Delivery Service. Sugimoto Tetsuta visits Alsace region to seek the town where Sophie lives in in Howl's Moving Castle.