Hikoutei Jidai / The Age of the Flying Boat - Japanese Book - Porco Rosso - Ghibli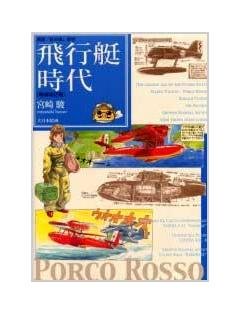 ☻ Please agree to the "TERMS" before purchase. ★ DHL NO delivery to P.O. BOX address.* For AUS and CANADA, before ordering, please google "DHL REMOTE AREAS" to check your Zip Code. If its listed, the shipping cost increases more than double.
☻ Please agree to the "TERMS" before purchase. ♛ Stay Safe!!

....... Price: US$34
....... Size: 29.2 x 20.6 x 1 cm
....... 71 pages
....... in Japanese
....... Hayao Miyazaki
According to http://www.nausicaa.net/miyazaki/manga/hikoutei.html
"Hikoutei Jidai" is a 15 page all watercolor manga, which the animated film "Porco Rosso" is based on. It was serialized in Model Graphix, a monthly magazine about scale models, as a part of Miyazaki's "Zassou Note" series. Like other mangas in this series, "Hikoutei Jidai" is a manifestation of his love for old planes. It's filled with planes from 1920s (heavily modified by Miyazaki), technical details about them, and men (good-hearted and silly) who love these planes.